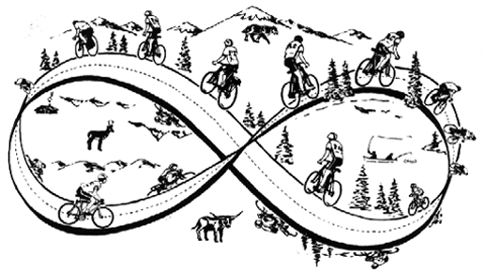 PAC Tour
Who is PAC Tour?
Pacific-Atlantic-Cycling Tour was started in 1985 by cross country record holders Susan Notorangelo and Lon Haldeman as a way to offer the long distance cyclist the ultimate cycling vacation. Lon and Susan will offer their experiences from over forty transcontinental rides to make your PAC Tour as smooth as possible. The support staff is also made up of the most professional individuals including many former Race Across America veterans.
Cycling Route 66
PAC Tour has organized twenty bicycle tours across America since 1985. The focus of Cycle Route 66 is to learn the history and meet the people who grew up along the old highway. The cyclists on this tour range in age from 35 to 68 years old. Many remember driving Route 66 in their youth during family vacations. Their occupations include school teachers, doctors and engineers. They are all very fit riders and have been training for several months in preparation for this tour. Most of them have ridden across the United States before and six of them have won the Race Across America coast to coast bicycle race in ten days or less.
Bicycle Expeditions Across America
PAC Tour offers a variety of high mileage tours for the 1996 and 1997 seasons. Our expanded calendar of events include the best cycling routes across all regions of the United States. Detailed information for each tour will be sent to registered riders beginning January 1st in the year of their tour.
---
A Word of Caution: PAC Tour is rated by Bicycling magazine as "the toughest tour in the world." PAC Tour does not follow the flattest, smoothest or easiest route across the country. PAC Tour routes are designed to offer the best cycling routes each day between motels and points of interest. If you are looking for an easy, flat, tail wind tour across America, do not sign up for PAC Tour.
---
These 1996 Tours are almost filled. Call for space availability.
1996 The North Transcontinental
July 13 - August 7 (riding days July 14 - August 6)
24 days * 3,339 miles * 139 miles per day * $2,995
Everett, WA to Williamsburg, VA
1996 The Southern Transcontinental
September 15 - October 9 (riding days Sept. 16 - Oct. 8)
23 days * 2,850 miles * 124 miles per day * $2,895
San Diego, CA to Charleston, SC
---
Upcoming Tours
Riders signing up early will receive the quarterly issues of the PAC Tour Alumni Newsletter in addition to their tour packet. Phone 414-736-2453 or FAX 414-736-2454.

Round trip airline flights should be made for arriving and departing from Tucson, Arizona. Choose one or both weeks:
$695/week or $1,295 for both weeks
1st Week ... (Fly In dates - Sat. Feb. 15 to Sat. Feb. 22)
2nd Week ... (Fly In dates - Sat. Feb. 22 to Sat. Mar. 1)
50 to 100 miles per day. Get some warm outdoor miles and see great scenery of southern Arizona. A good tour for 1st time PAC Tour riders or veterans training for PAC Tour summer events. Join serveral RAAM Winners and Bicycling Magazine coaching staff for daily clinics. Ride options each day with shorter routes. Motels, routes, Polo-shirt, books, coaching clinics, breakfast, lunch, snacks and gear shuttle included. Must register before January 15, 1997. Special Desert Camp Jersey to everyone who registers before December 1, 1996 with a $300 deposit.

"The Toughest PAC Tour"
May 3 - 19 (riding days May 4 - 18)
San Diego, CA to Charleston, SC
2,850 miles * 15 days * 192 miles per day * $2,495
Now a Qualifying Even for the Race Across AMerica
This challenging tour follows our scenic southern route. Many days of this extreme tour will cover over 200 miles. This tour is specifically for PAC Tour veterans or serious cyclists that have ridden a 200 mile event in under 10 hours. A great training ride for further RAAM participants. All riders must be physically, mechanically and emotionally prequalified for this rigorous event.

June 8 - 28 (riding days June 9 - 27)
Panama City, Florida to Portland, Maine
2,500 miles * 19 days * 120 miles per day * $2,695
This tour leaves Panama City, Florida on the Gulf of Mexico. Then ride through the mountains and forests of Georgia and the Blue Ridge parkway. See the Amish farms of Pennsylvania and quaint villages of New England before finishing along the Maine coast. This inaugural tour will include new states for PAC Tour veterans.

July 19 - August 14 (riding days July 20 - August 13)
Everett, WA to Williamsburg, VA
25 days * 3,333 miles * 133 miles per day * $3,195
This popular mountainous tour visits Yellowstone National Park and other highlights of the northwestern United States. Ride through the Badlands and Black Hills of South Dakota. See the hilly farmland of Iowa and Wisconsin before crossing the prairies of Illinois and Indiana. Clim the hills of Ohio and West Virginia before you finish near historic Williamsburg, Virginia.

September 13 - October 9 (riding days Sept. 14 - Oct. 8)
San Diego, CA to Charleston, SC
2,800 miles * 25 days * 112 miles per day * $2,995
Do you know a serious senior cyclists who wants to ride across America? Join 50 riders all over 50 years old who are living their dream. To qualify for this tour you must be over 50 years old. This tour offers a variety of excellent cycling conditions from the expansive desolate desert to the thick vegetation of the eastern states. Along the way you will cross the canyons and climb the mountains of the southwest. Ride the plains of Texas, the rolling hills of Tennessee and the forests of Georgia.

Summer * 2,200 miles * 19 days * 115 miles per day